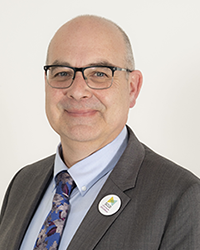 Charlie McMillan
Charlie is the first Chair of Restraint Reduction Scotland (RRS) Restraint Reduction Scotland - SCLD and Chief Executive of the Scottish Commission for People with Learning Disabilities (SCLD). SCLD is a Human Rights Defender and the delivery partner for the Scottish Government's national strategy for people with learning disabilities - The keys to life and Towards Transformation.
Charlie trained as social worker many years ago and was previously seconded to the Scottish Government Health Department where he advised Ministers and NHS Scotland on participation, equality, diversity and human rights. He has held several senior positions across the voluntary sector in Scotland and has a range of experience and interests including human rights, engagement and involvement, equality and diversity, policy and strategy development, leadership, safeguarding, quality assurance.
Charlie is a long-term LGBT+ rights activist, and Co-Chair of the Scottish Government's Learning Disability Gender Based Violence Steering Group. Charlie has a committed mindfulness practice as part of the Mindfullybeing/KAMAL community.