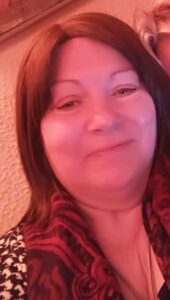 Iris Benson MBE
Iris is a Service User Carer Rep, Expert by Experience, Lead on No Force First and Service User Lead on Values Based Recruitment and a Peer worker, for Mersey Care NHS Foundation Trust in Liverpool. She is passionate about Co-production, Co-delivery and Recovery.
Iris has been accessing services for over 25 years, with both good and bad experiences, even though most days she can be very symptomatic, with distressing voices, hallucinations, she lives a meaningful fulfilling life, despite her mental and physical health.
Iris is passionate about using her lived experience of being restrained, and many inpatient stays over a long period of time to help inform the transformation of services to further support peoples recovery. She believes that everyone has a gift, and that service users (people) should be enabled and fully supported to be able to use their many talents, to harness all the strengths they have to help others, and give Hope and Opportunity to all for a very different future.
Iris is involved in a wide range of things within Mersey Care NHS Foundation Trust, working alongside staff and others who have supported and helped her on what has been a long, difficult and sad journey at times. She remains in services and feels that without all the support from her family, friends and many staff that she wouldn't be alive today.